THE EXPERIENCE
Your time at Olerai House is yours to do with absolutely as you please. On offer are gentle walks amongst the herds of wild animals in the sanctuary or energetic hikes in the nearby hills. We can arrange a boat trip across Lake Naivasha that ends with a gourmet picnic on an island full of wild animals. You could spend the day hiking up and around the crater of an extinct Rift Valley volcano, or relax in the drowsy afternoon heat by our swimming pool. The sanctuary is a bird watcher's delight, and a charming opportunity for children to meet and pet the farm animals – the pigs love having their tummies scratched! Or you can simply curl up in the warm breeze beneath the shade of a widespread fig tree, and read to your heart's content.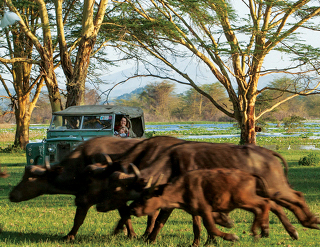 Surrounded by animals, birds and wildflowers, the longer you stay at Olerai, the more you will reconnect with the beauty of the natural world. As the dawn chorus serenades your dreams, you will notice a new equilibrium as nature soothes away your daily stresses. Explore on foot, on horseback, by boat or from the air.
Returned to nature in 2001, Olerai is now a haven for scores of different animals, hundreds more birds, and an explosion of wildflowers and soaring trees. Each day is full of surprises as new species come home. There is no greater joy than taking the time to explore this beautiful landscape and relish in the diversity.
Close to us are extinct volcanoes to summit, steam geysers rising from beneath the Earth's crust, flamingo-fringed lakes to explore, and National Parks where you can cycle among the animals or watch tree-climbing lions. And at the end of an adventurous day, the warmth and luxury of Olerai's farmhouse welcomes you home.
ORIA'S ORGANIC GARDEN
Nearly all of the food we use at Olerai House is grown or raised on a small section of land set aside on the Sanctuary, where Oria has established two large organic gardens that are now expertly managed by a staff of five. We really encourage you to come to have a look, to smell the fresh herbs, help pick some bitter oranges to make marmalade, crunch on a carrot fresh from the ground, or meet our ducks, pigs and red hens. We are deeply conscious of ensuring our livestock's quality of life, so all animals are pasture-raised and free to roam.