Had I been asked to look forward a year ago, living in the Kenyan bush with a supermodel, her family and the crew of Glamour US magazine is not the answer I'd have given. But that's exactly how, in the middle of wild Samburu, an adrenaline fuelled, action packed, calm yet chaotic week of March turned out to be.
Watching how photographer Nathaniel Goldberg and his dedicated team planned, shot and pulled together a collection of eclectic photographs was fascinating; seeing how the Glamour team worked endlessly, individually and as a whole, to make sure every single detail was as it should be was an insightful sneak peak into the incredibly precise world of fashion journalism. Then all coming together to dine beneath the stars at the end of each day was just a little surreal, a little magical and somewhat memorable.
©Nathaniel Goldberg for Glamour US magazine
Doutzen Kroes, a true professional, took life in the bush in her stride. Elephant Watch Camp was alive with both the buzz of the natural world and with the photo-shoot, and her beautiful family was a joy to be around.
Whilst all involved thrived on the novelty of such a glamorous shoot in the middle of the bush, the wild still remained truly wild: scorpions still ascended tent walls, the wildlife still chose where and when they'd be – and if they were to be spotted – and a model on foot with only a tree between her and entire herd of wild elephants had to be taken seriously, perfectly coordinated and then, of course, photographed. Being at Elephant Watch Camp provided the opportunity for Doutzen and her family to enjoy the wonders of Samburu in-between all the action and to steal some precious family moments together.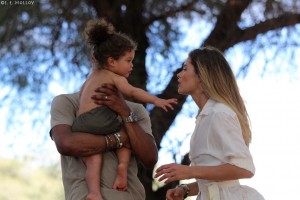 The elephants were as intrigued and as in love with Doutzen and Sunnery as they are with the elephants. With a hugely passionate and conservation-concerned heart, it is no wonder Save The Elephants deemed Doutzen the matriarch of the elephant cause. Sunnery acclimatized to life with the bugs (ish) with a wonderful spirit, and a matching determination to make a change for the future of our magnificent, but vanishing, creatures.
©Nathaniel Goldberg for Glamour US magazine
For the girls and I it was a week of early morning starts and working a learning routine in around photo shoots of them standing on the Cessna 185, watching behind the scenes in camp and atop the sundowner hill, determining how to convince one fashion conscious twin to wear the NY fashion mag approved clothing, whilst persuading the other not to smear electric purple lipgloss across her lips, or mine, and most importantly for them squeezing in essential playing time, river expeditions and mud baths with their soulmates, Phyllon and Myllena – two children with hearts and minds just as wild as the girls'.
For the warriors, it was another chance to dress in their finest beads, feathers, decorate themselves beautifully and to dance, sing and celebrate on top of the famous sundowner hill.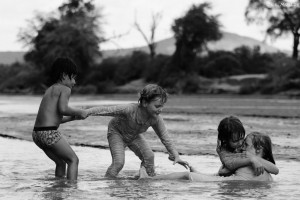 Selkie pictured teaching Phyllon, below, to swim in the Ewaso Nyiro like a crocodile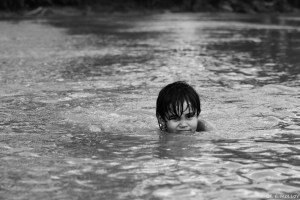 Giants', captures the beauty, the importance of – and also the danger facing – Doutzen's gentle giants. Her desire to utilise her profession to raise global awareness of the elephant crisis and ivory trafficking is both inspiring and encouraging. Her family, like the STE and EWC family, do not want a world without elephants, and are doing what they can to protect and preserve them. It was a privilege to be around during the Doutzen days, and was a wonderful moment when opening Glamour magazine's issue and seeing the finished product. Here's hoping her stay with us in Samburu at Elephant Watch Camp and Save The Elephants inspires other like-minded icons to spread the word, encourage action to be taken and join the fight against ivory trade.