WELCOME TO BESPOKE SAFARIS
The Elephant Watch Portfolio's Bespoke Safaris offer the opportunity of unforgettable tailor-made African wilderness adventures that marry your dreams to our deep knowledge of this region and our passion for its people, places and animals. Every journey is different. But each will share an unflagging attention to detail, a dedication to comfort without compromise, and a strict focus on responsible tourism and long-term sustainability.
We offer unrivalled access to indigenous communities we have worked with for decades. Our connections to cutting-edge conservation bring you closer to the wildlife, especially elephants, in both a profoundly moving and meaningful way. Your hosts and guides are world-class, trained to the highest levels and have years of experience. Allow us to share our secrets, show you what we love, and let the inspiration of the wilderness envelop you fully.
Our knowledge and connections reach from our home in Kenya across East Africa and beyond, ensuring we always know the special places and people that make your safari unique, whether in wildlife savannahs, Equatorial glaciers, or forests filled with rare and endangered primates.
Our team has long experience of designing bespoke itineraries to take our clients exactly where they want to go, and our passion is surprising you with our attention to detail, our understanding of exactly what you want, and making the whole experience exciting but seemingly effortless.
We count the nomadic people who call Northern Kenya home among our close friends. They'll be proud to take you with them to walk through the wilderness on multi-day hikes with camels that will carry your provisions, setting up your mobile camp in breathtaking locations each night.
East Africa is justifiably the world's premier safari destination for those wanting to experience the enchantment of wildlife roaming free in unspoilt landscapes, and to meet people moulding ancient ways to a changing world. We are deeply mindful that these experiences resonate most deeply when each journey is unique. Our sole goal at Bespoke Safaris is to design your perfect adventure. No two trips are the same, other than that all draw on our unmatched knowledge and passion. Best of all, by coming on safari with us, you get to give something back to this amazing wilderness and community.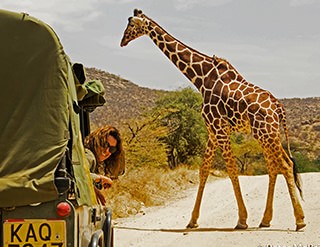 Olerai House, Sirocco, Elephant Watch Camp, our Bespoke Safaris and conservation work have all appeared in numerous press articles and magazines. Below are some of our favourites.
The Secret Life of Elephants is a BBC nature documentary series following the lives of elephants and the work of the conservation charity Save the Elephants in Samburu National Reserve, Kenya.